New sunroom replacement windows installation allows you to appreciate the warmth and beauty of the outside without the issues of bugs, high or humid heat, or severe climate. However, to make the most of your sunroom, it's essential to find and buy the correct windows for the sunroom.
Also, to familiarize yourself with the many kinds of window glass accessible for sunrooms. So, you can stay cool in the summer and warm in the winter without having to sacrifice energy efficiency.
Replacing old sunroom windows shouldn't be a headache, particularly because Crystal Clear Windows and Doors experts can help you find the right ones.
What Kind of Sunroom do you Have?
Three-season sunroom, or all-season? If you live in an area with a milder and temperate climate, then you should have a three-season. These provide an extra bug-free, rain-free living space without the added insulation of an all-season sunroom. Of course, all seasons can cost more, but you also get more quality.
All seasons offer high-quality energy, efficient glass, protection from the weather, and all the necessary insulation for a house room. In addition, you probably won't need an entryway separating it from the rest of the home! Therefore, whether you have three-season or all-season, you must settle on a new style of glass and size that will complement your home's design and best suit your needs.
Picking the Right Glass for the Sunroom Replacement Windows Installation
Preferably, your new sunroom replacement windows should keep the heat of the sun's rays out but permit the natural light in without damaging your furniture. There are many ways you can achieve this top feature. First, pick windows that have multiple panes of glass. Or, you can choose windows that bring Low-E coatings, which reflect heat energy.
You can likewise have argon gas inserted between a few panes of glass to help improve the window's capacity to insulate against cold and heat. Also, you can include features like snap-in shades, but this alternative will remove the window's transparency.
Select your Sunroom Installation Materials
What kind of climate do you live in, and how will you use your sunroom? These questions will enable you to choose suitable materials for your needs. Use vinyl if you plan to heat or cool your sunroom during extreme temperatures. Vinyl is durable, energy-efficient, and ideal for all-year use.
But many homeowners don't like the look of plastic, which is usually the cheaper option. Aluminum is another option; it's both lightweight and sturdy but rarely insulates like vinyl.
What are the Best Window Design Options for a Sunroom Installation?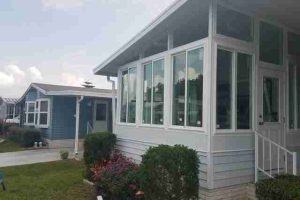 The best sunroom replacement window designs are significant and have narrow frames. These windows provide the highest amount of visibility. Typical sunroom windows include stationary windows, casement windows, and sliding windows.
Awning windows are excellent choices for installing over stationary windows since they permit air to flow inside without meddling with visibility.
Picking the Right Location for Your Sunroom
If you built your sunroom, you know how important the direction of a sunroom is to your comfort. However, if you're considering installing a sunroom, then read more. Where you will place your sunroom depends on the location of your home or property. For example, homeowners who live in cool climates should put their sunrooms on the home's southern side to appreciate the light and warmth.
While homeowners in hotter atmospheres will have their sunrooms placed on the north or northwest sides of their homes to help lower the intensity of the sun's heat.
Think about your Sunroom Accessories
There are many options you can add to customize your sunroom. For example, open windows or skylights will help airflow and keep your room from feeling stuffy. Or, install a smooth ceiling fan to keep things breezy — pick a model with forward and reverse speeds for seasonal use.
Chic window treatments help lower the afternoon sun heat while adding texture to your space. Also, radiant floor heating or an excellent fireplace will take it up a notch for winter use.
Sunroom Windows Costs & Pricing
According to Replacement Windows Reviews, sunroom windows cost between $2,000 to $11,000 for ten replacement windows and the required professional installation.
Entry Level Sunroom Windows Pricing- $1,500 to $3,000 (not including installation)
Mid Range Sunroom Windows Pricing- $3,000 to $4,500 (not including installation)
High-End Sunroom Windows Pricing-$4,500 – $8,000 (not including installation)
Note: Remember, above it is only the sunroom replacement windows cost, not building a sunroom from scratch. Ask a sunroom builder for an estimate since we only sell the window replacements.
We Sell the Best Sunroom Replacement Windows and do the Installation
Clearwater sunroom window experts install many sunroom windows, using the best materials accessible and labor quality.
If you want to save money on the expense of your sunroom installation without trading off visibility and energy efficiency, then we can help.
We install energy-efficient windows, which translates into savings for your home improvement project.