Sliding door installation are more common today because of their beautiful design and usefulness. Sliding door replacements in Clearwater use an entire glass door panel. The lack of hinges and the usage of a track make them ideal for limited spaces. They can also brighten the room and provides more natural light.
Putting your replacement sliding glass door in the correct areas will improve the usefulness and style of any home with their straightforward but practical design.
So, do you want a sliding door installation in your home? Well, check this manual to help you get familiar with the components of the sliding door.
Where do you install the sliding glass door replacement?
Sliding door replacements are ideal as interior doors. They are perfect for bedrooms, kitchens, and living rooms. You can even install a sliding door replacement in your bathroom. You need to ensure that it's the correct door, so it ensures your privacy.
These doors also function outside, they can be ideal for patios, gardens, and terraces. However, understand it can lessen the security of your property if left as your patio door. Sliding entryways are usually all glass, so don't place them in high-crime locations and have plenty of visibility with some motion-activated lights.
What kind of sliding door replacements are out there?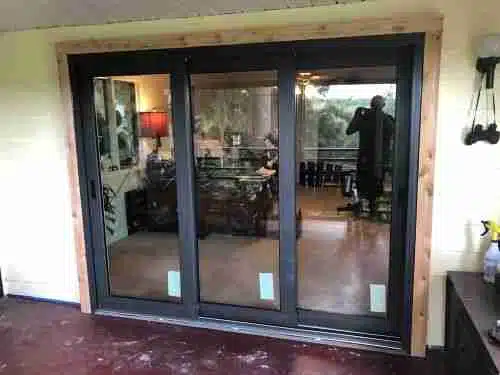 The most well-known sliding doors come with curtain rods. These doors don't take wall space since they're made of two layers of glasses and the door opens overlapping the other fixed glass window. These doors work well for open outdoor kitchen areas, porches, and gardens.
Hanging sliding doors connect to a rail over the door and they slide over the wall. To install them, you have to have wall space at least one width of the door.
Wall sliding door replacements are sliding in pockets in the wall. They are an incredible answer for when you don't have wall space and want to have a minimal look in your home. They are also ideal for closets as the door disappears into the wall when open.
What are the sliding door sizes?
You can find sliding doors in many sizes. Remember the size is top on the priority list when you're installing an inside door, they'll occupy wall space when open.
Therefore, measure the wall and consider the sizes of the sliding door carefully. Do you have space on the wall to fit an open door? If you don't, consider other door choices.
Sliding door replacement materials
Sliding doors typically come with an enormous glass in a wood, aluminum, vinyl, or fiberglass frame.
Picking a sliding door with a wooden frame will upgrade the look of your home. The doors are accessible in various colors—from rustic, dark to light wood, and in many styles. You can browse many styles, frames, multiple windows, and more. Wood can warp and crack easily. That is the reason it's not suggested to use wooden sliding doors outdoors or in wet regions where moisture can damage the wood.
Aluminum sliding doors come in many colors and designs. Aluminum is a sturdy and dependable material. These material works well for the outdoors since they can withstand a wide range of climate conditions.
Vinyl sliding doors are durable, however, they can be only available in limited colors and may look low-quality.
How to maintain a sliding door?
If you opt for sliding door installation, you have to take great care of it so it can maintain its great working condition for a long time. If you want to install the sliding door outside you have to keep the exterior frame clean of dirt. This can ensure the system works properly. I recommend a regular vacuum and wiping the frame and the equipment off the door. I also recommend lubricating the locking and sliding mechanism two times every year.
Essential sliding glass door components
Some sliding door parts vary from the traditional door parts. Become familiar with these sliding door parts, so you can know if your specific mechanism works correctly.
Sliding door handles-Sliding door handles have a unique system than the handles you find in traditional doors. On sliding doors, people need to pull the handles. A few styles have a clamped built-in door that joins with the doorjamb and gives added security.
Sliding door locks-Locks on sliding doors work differently. They are basic latches that lock into each other when you close the door. You can lock them with keys or with twist action of the lock.
Sliding door stoppers- These stoppers are metal rods that keep the door from opening from the outside. They come in many sizes and the buyer can decorate them to fit any preferences. They are simple to use. You need to put the stopper into the door track and tighten it up to secure it in place.
Sliding door track-Tracks are installed in the doorframes and give a place for the sliding rollers. You can tune them so the entry can slide with no problem.
Sliding door rollers-Rollers are the wheels that connect to the bottom and top of the door. They fit into the track and keep the door sliding.