There are many patio door installations to choose from, so try to find one that complements your home's design style. Connect your inside and outside living spaces by installing a sliding patio door that matches your home design and suits the needs of your way of life.
Would you like to install a patio door for your home in Clearwater, FL? But do you know the right patio door style that will enhance your home look and functionality? Luckily, there are many styles; each meant to serve the needs of a specific homeowner. Also, there are other significant factors to consider that can help you decide your choice.
Consider how much space you have in your home where you intend a new patio door installation. The glass and material of your patio door are significant as far as performance, maintenance, and energy efficiency.
Understanding the differences from each other will assist you in making an educated decision.
Hinged Patio Door Installations
Stylish and efficient, hinged french doors are a great choice. Depending on your preference, the panels, mostly made from glass, swing in or out. Often, the homeowner wants convenient access between the indoor and outdoor living spaces; hinged patio doors are the straightforward solution.
You can pick a single patio door or even install a pair. More mortgage holders are picking double-hinged patio doors to expand the opening to their patio. However, your choice will depend on how much wall space you have. A wider opening can work well for high-traffic areas, particularly if you have kids and pets frequently entering and exiting. Consider having one operable door and one fixed door when you have two doors.
Yet, the true beauty of hinged patio doors is the style choices. If you live in a modern or traditional home thus, you'll find the right hinged patio door with the size, shape, and style that will complement your home's style.
Hinged French Patio Door Installations
Hinged sliding French patio doors are stylish and popular for their usefulness and style. If you're searching for an excellent entry, then your search is complete.
Double French doors swing open to make a fantastic entry that is warm and inviting. Also, these French patio doors permit a lot of daylight when they're closed.
Sliding Glass Patio Doors Installations Benefits
Short on space well, sliding glass patio doors are an incredible alternative. Comprising two panels made usually from glass, one panel slides horizontally to open and close. They use less floor space since they don't swing in or out. You can leave furniture close by without stressing over it, blocking the entryway from being opened.
Sliding glass patio doors allow plenty of light. Thin frames permit bigger glass panels to allow a lot of daylight into your home. You have control of how much light to permit into your home with the help of the glass blinds. So, you can brighten up your indoor living space however you want.
Their design is slimmer than traditional options, giving a more contemporary appearance. People like sliding glass patio doors for easy functioning, both opening and closing effortlessly.
There is no lack of choices regarding materials. Many manufacturers offer sliding glass doors in materials, including wood, fiberglass, and vinyl.
Bi-fold and Multi-Slide Patio Doors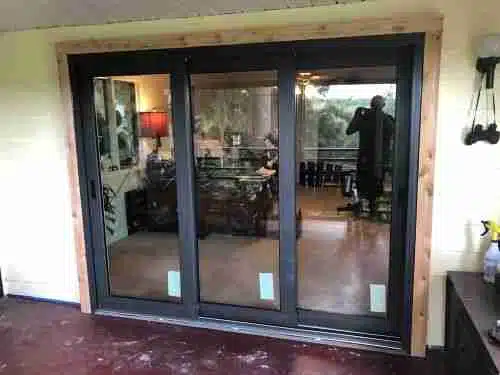 Bi-fold and multi-slide patio doors can set the scene since they can transform any wall into a fantastic opening. You can slide, fold, stack, or pocket the panels for many configurations.
Bi-fold patio doors comprising panels that open and close along one track, folding and stacking into the inside or outside to make an unobstructed opening.
Multi-slide patio doors can comprise multiple panels to make an opening as expansive as 59 feet. The panels can slide to the other side or open in the middle, or even stay hidden or stacked against one another. The patio door design also includes flush handles recessed into the sides of each panel for simple functioning.
Crystal Clear Windows and Doors
With Crystal Clear Windows and Doors, you can install the ideal patio door for your home. Regardless of the design style of your home, there is a patio door that will work well for you.