Patio doors cost aren't an issue regarding remodeling the back of your property since a patio door installation is an excellent feature to have. Besides providing convenient back access, they also allow natural light and a nice patio view.
Homeowners use patio doors to go into the yard, patio, or garden. If you hear the traditional patio door, it means sliding doors. However, now it frequently includes French doors and bi-folding as well.
The kind of replacement patio door Clearwater will depend on the size of an opening, design, and budget.
Each type of patio door has its pros and cons for various applications. In this post, our patio door company Clearwater experts will investigate the key contrasts, applications, and patio doors cost.
3 Types of Patio Door
With modern patio sliding doors, you have the best flexibility when installing patio doors. You can tailor your opening to the patio door you want to use.
However, when you have a new patio door fitted in a current opening your options are limited. The tree patio doors are French doors, patio sliding doors, and bi-folding doors.
French Doors
French doors work best on small openings. Their design looks like swinging or double doors but opens outwards.
French door uPVC is well known, regularly fitted with extra side or top lights to fill the entire opening. Different materials, for example, aluminum can be made wider and taller. Also, you can have less material but more glass inside a French door design at an increased cost.
French patio doors are more secure because of their multi-lock systems and many have passed through PAS024 security testing.
A huge benefit of French doors is that you can open a single door for access. Opening one door is convenient and you will be thankful when the weather is rough. However, when you have great weather, you can open both doors wide.
Sliding Patio Doors
Sliding patio doors open by sliding along on horizontal tracks. If you have a small space outside then these doors can work perfectly. So, when your yard or patio is small, sliding patio doors will fit better than both French and bi-folding doors. A big advantage is they can't be blown shut, as swing operated doors.
Also, sliding glass doors can straightforwardly fit inside larger building openings. Aluminum provides more sizes, more glass, and less material. However, you will need to use high-quality rollers to make heavy doors simpler to slide during entry.
Sliding door innovation has advanced from single tracks up to three. Multiple door designs can slide independently, giving the best flexibility to functioning. You will find two to four-pane sliding doors, you can see bespoke designs.
Built-in multipoint locks are used where the panels overlap providing greater security.
Bi-folding Doors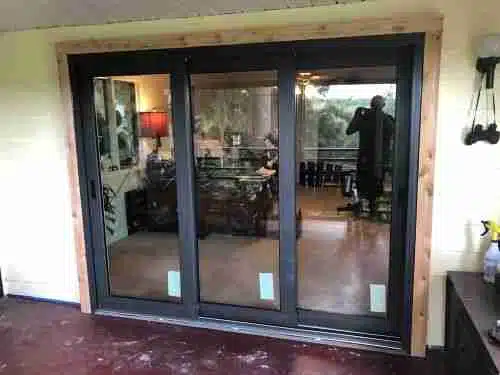 Bi-folding doors are top regarding the opening of your home, even at the corners. The fully opening operation is the greatest advantage, covering the widest building openings. For those looking to break the boundary between the interior to the outdoors, the other doors can compete.
Different designs will give flexibility. Yes, bi-folding doors provide the most suitable opening. For little openings, you won't get more opening than French doors, plus, but you lose the ability to open a single door.
Consider installing a single swing opening door since one side can provide access without having to completely open up your home.
Bi-folding patio doors can cost a bit more than French doors and sliding patio doors.
How much it cost to replace a sliding patio door or to install it?
Average to install sliding glass doors not including materials range from $250 – $1650.
$300 – $5,500 Sliding Glass Doors Prices with no installation. (The patio door cost depends on the size, the number of panels, glass type, brand, region, and materials).
Large multi-panel sliding doors with sturdy glass can cost from $1,000 to $4,000.
Sliding Glass Door Prices
A simple sliding door costs $300 to $800 for 6-foot plain glass panels in an aluminum or vinyl frame.
Mid-range sliding glass doors costs range from $800 to $2,000 with energy-efficient double pane glass.
Top-quality brands like Andersen, Pella, and Marvin sliding door costs range from $1,500 to $5,000.
Multi-Panel Sliding Glass Door Prices
Multi-panel sliding glass doors cost $600 to $7,000. (Depending on the number of panels).
A 3-panel sliding glass door costs range from $1,000 to $5,000.
4-panel sliding glass door costs $2,500 to $7,000. Regularly, one panel remains fixed, yet a few models permit all the panels to move.
Wood Frame sliding door material-Pros and Cons
Price $1,000 – $2,000 up
Pros
Provides high performance
Natural splendor
Insulating properties
Simple to fix
Suitable for extreme weather
Durable
Cons
Regular maintenance required
Can have a high cost
Clad Wood Frame sliding door material-Pros and Cons
Prices $800 – $2,500 up
Pros
Not much maintenance
Many color alternatives
Paintable
Has a wood feel
Weather-resistant
Cons
Can be costly
Requires upkeep on the inside side
Aluminum Frame sliding door material-Pros and Cons
Prices $250 – $1,300 up
Pros
Sturdy
Simple to maintain
Light and simple to operate
Affordable
Cons
It can dent kind of easily
Scratches also easily
You have to research and demand quality
Thermal barrier issues
May rust with humidity
Fiberglass Frame sliding door material-Pros and Cons
Prices $400 – $2,000 up
Pros
Can look like wood
Doesn't need maintenance just cleaning
Energy-efficient
Effectively handles all weather
Long lifespan
Cons
Vinyl frame material-Pros and Cons
Prices $300 – $2,000 up
Pros
Affordable
Low maintenance
Doesn't rust, corrode, and rot in wet climates
If you like it can look like wood or other natural materials
Lightweight
Long lifespan
Cons
Flammable
Can crack or warp with quick temperature changes
More fragile than fiberglass
Won't last as long as fiberglass or wood
7 Pros of Sliding Patio Doors
It bodes well to install patio doors in homes since it allows outdoor fresh air inside. While picking the correct patio door, it's significant that you think about energy efficiency, quality, safety or security, and stylish design. Here are a few pros that can make a sliding patio door the winner and significant addition to your home:
It brings the outside in-Sliding glass doors brings an enormous glass with narrow tight frames. This design permits you to look at your patio and landscape without leaving your home. The perfect mix of glass and frame also catches the outdoor views so pleasantly. Perfect for beach homes, condos, and homes with a large green yard.
It gives simple access to the outside-Since the glass panels slide easily from side to side, you can smoothly go outside to your porch or inside any room in your home. Thus, the sliding patio door near me doesn't need swing space; thus won't meddle with entrances or nearby furniture.
Patio doors are visually appealing-Besides allowing beautiful views, sliding glass patio doors complement contemporary and modern home styles. The units come in different colors and finishes that will upgrade your home's overall look. You can likewise decide to add grille options for additional appeal.
Yes, for energy efficiency-High-quality patio doors use excellent glass packages that assist with insulating the home's inside. These glass options have extraordinary coatings that reflect heat and damaging UV rays, keeping your home cool during hot days and warm during winter.
Safety-Top-quality sliding patio doors bring a reach-out locking system that fits the units firmly into the jamb. Besides creating a secured lock for perfect security, it also guarantees a tight seal for better weather protection.
Security-If you're still off-edge because of crime or burglars, consider our Clearwater window replacement company top impact window glass. Impact window glass can prevent a burglar from breaking the glass with a weapon or rock and stop hurricane winds from penetrating your home and destroying it.
Basically, sliding patio door installation near me makes a financially smart investment and a good-looking one.
5 Pros of 3 Panel Sliding Patio Doors
3 Panel Sliding Doors Are Simple To Use
How less complicated is it to perform required housework or patio cleaning knowing the 3 panel sliding patio doors open effectively!
Appreciate Nature
The loss of barriers between indoor and outdoor areas inspires a unique and remarkable quality and feel for your living spaces.
Often, we want to get outside sun rays when the climate turns warm, welcoming, and pleasant. However, you don't want to go outside for whatever reason? Opening the 3-panel door permits a cozy connection with nature.
So, you can quickly change the feeling of being stuck inside to an exciting feeling and revitalize it with natural winds, scents, and the atmosphere of the open outdoors. Therefore, you can appreciate the outdoors again in the comfort of your home.
And thanks to 3 Panel Sliding Patio Doors huge open-access way, not like your standard sliding glass doors, you will benefit from fresh winds rushing in and eliminating stale, lifeless air in simple minutes. Patio doors can bring an abundance of light in any season.
Extraordinary for Dinner Parties
3 Panel Sliding Patio Doors will upgrade the social occasions you have in many ways. A huge open-access way from the inside to the outside will permit visitors to run freely with the natural flow of a social celebration. Nobody will get left outside or confined by the old dirty air-blocking walls. It couldn't be any more apparent; these aren't your regular outside sliding glass patio doors.
Remember, as a host, you will risk serving food and drink glasses with traditional doors, unexpectedly running into party visitors, and regrettably spilling the food or drinks. With the openness of the 3-panel sliding patio door system, there are no restricted views and congested traffic flow, simply a simple transition area for your guest to enjoy without mishaps or spills.
While traditional wood or steel doors serve as convenient entry points, you can customize the 3-panel sliding door. You can pick an elegant finish or stunning dramatic design. There are many options to match your decorating home style. You will always impress your visitors when you have your party.
Safety Patio Door Considerations
Don't stress the 3-panel sliding patio door price since it brings security benefits. The 3 panel patio door is UL safety rated, meaning you'll have some protection, and they're tested.
These patio doors also get a multi-point locking system. You can even contact a residential locksmith company to fit it with a sturdy deadlock.
Entirely Open the Doorway For Convenience
With your new modern completed 3-panel patio glass doors, moving furniture isn't an issue anymore. Furthermore, you can even bring the pool table to the patio without problems!
When it's time to purchase new furnishings, trading out the old for the new is always complicated regarding traditional narrow doors. Near walls can face the peril of gouges and scratches as furniture items are maneuvered carelessly and carefully through thin doors.
The Patio Door Replacement and Installation
With a 3-panel sliding patio door Tampa installation, you will accomplish more than a visual look and stunning patio transformation to your home. It is likewise practical.
Don't forget, Crystal Clear Windows and Doors does sliding patio door installation.